Estate Set featuring the Spinning Pole:
This flagpole set is perfect for the home or office. The aluminum pole is engineered to include a built-in "free-spinning" top section that will prevent your 3 x 5′ nylon flag from tangling on the pole. Poles come complete with two clear PVC flag collars to attach a traditional heading and grommet flag. There is no need for any additional untangling accessories. This set includes a 3 x 5′ nylon Nyl-Glo Colorfast U.S.flag, two-piece white spinning pole, white cast-aluminum adjustable mounting bracket. Packaged in a box suitable for gift-giving.   
ITEM# 238 $73.00 each, freight additional.
Mansion flag set with Spinning Pole, Flag and Solar Light: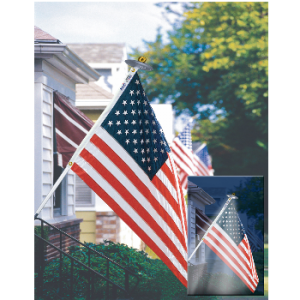 This set features a two- section white spinning pole with an angle- adjustable Solar Light, gold ball top and a 3 x 5 ft. SolarGuard Nylon America flag Made in USA. This American flag is expertly sewn using Annin's heavyweight 200 Denier Nylon fabric. Stripes are sewn with four rows of stitching on the fly end hem and back tacked reinforcement.  Vivid white stars are densely embroidered. Flag is finished with brass grommets. The Solar Light's three LED lights illuminate the flag at night, while the top 40 inches of the flagpole rotates 360 degrees on ball bearings so your U.S. Flag will resist tangling. There is no need for an additional non-furling device. The mounting bracket is white cast- aluminum and fully-adjustable to multiple positions. Hardware is imported from China for Annin Flagmakers. This set makes an excellent gift for friends, parents or to PROUDLY display on your HOME.  
ITEM# 4914 $85.50 each, freight additional. 
Village III Alliance Residential Flagpole Set:
As shown in the Annin Flag catalogue this residential flagpole is UPS ship-able (ships at oversize weight). Comes complete with maintenance free white 20′ sectional  fiberglass flagpole, ground sleeve, ball, cleat, halyard and snaps for the flag. This is a three section pole with a butt diameter of 3 1/4″ and tapering to 2″ at the top. Weight 27 lbs. Overall height 22′. Designed to withstand wind speeds in excess of 100 mph without a flag and up to 55 mph flying a 3 x 5′ nylon . Suitable for a nylon flag up to 4 x 6′ in low wind areas. Flags are not included. ITEM # 395 $325.00 each, freight additional.
Fiberglass In-Ground Poles:
These flagpoles are attractive and designed to withstand the elements. Fiberglass does not corrode or rust. Each pole comes complete with a 2′ ground sleeve, ball, cleat, halyard and snaps for the flag. Yard-Arms are available for the 20′ and 25′ poles. Add $35.00 for flash collars. 15′ pole Item #F-15′ $400.00 20′ pole Item #F-20′ $475.00 25′ pole Item #F-25′ $630.00
Nylon Flag:
Our most popular and versatile outdoor flag offering durability for every purpose. Solar Max 100% nylon provides a rich appearance that out performs other nylon materials. We carry Nyl-Glo made by Annin Flag and Durawavez made by Flagzone.
Durable
Mildew resistant
Sheds water
Flies in a light breeze
Machine washable to keep the colors bright
| | | |
| --- | --- | --- |
| Item # | Size | Each |
| USN-23 | 2 x 3′ | $25.00 |
| USN-25 | 2.5 x 4′ | $28.50 |
| USN-25B | 2.5 x 4′ Banner with pole sleeve | $36.50 |
| USN-35 | 3 x 5′ | $36.00 |
| USN-35B | 3 x 5′ Banner with pole sleeve | $43.50 |
| USN-46 | 4 x 6′ | $48.00 |
Signature Series:
Made by Annin Flag this is the finest quality flag for the discriminating customer. This Signature Series all weather flag is made of 100% nylon, with sewn stripes, and extra-large ultra bright stars.  The stars are densely filled with high-gloss polished white thread that sparkles in the sunlight.  Attractive presentation packaging makes this flag a great gift.
| | | |
| --- | --- | --- |
| Item # | Size/Description | Each |
| USNS-35 | 3 x 5′ Flag | $42.00 |
| USNS-46 | 4 x 6′ Flag | $55.00 |
| USNS-2 | 2.5 x 4′ Banner with pole sleeve | $40.80 |
Cotton Flag:
Made of 100% heavy cotton bunting these flags have rich vibrant colors, good durability and make a good choice for those looking for a traditional texture and appearance.  All flags have sewn stripes and densely embroidered stars.
| | | |
| --- | --- | --- |
| Item # | Size | Each |
| USC-23 | 2 x 3′ | $21.40 |
| USC-35 | 3 x 5′ | $31.30 |
| USC-46 | 4 x 6′ | $41.60 |